Ever since my oldest daughter Kaelani had a baby, my 10-year-old Kaitlin fell in love with her little niece and thinks she's got what it takes to truly take care of a baby.
But she doesn't have a clue and frankly she's just too young to care for a baby, even though I definitely think my 10-year-old is ready to babysit her siblings. But a baby? I think waiting until she's at least 13 and a little more mature would be just right.
But now is the time to prep Kaitlin for being a babysitter and let's her see just what babysitting entails. And boy did Kaitlin get a heavy dose of reality recently when she played the Imagine Babyz Game for Nintendo DS by Ubisoft!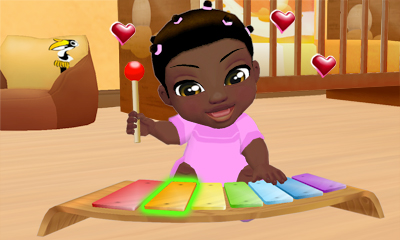 The first time I heard her say, "Taking care of this baby is work," I knew the virtual babysitting game had hit the right (cyber) cord!
In the Imagine Babyz Game, Kaitlin experienced the life of a popular babysitter with incredibly lifelike 3D visual animation and baby reactions! She got to hope a (virtual) airplane and travel the world to care for babies and help them grow, keeping both the babies and their parents happy in order to build her reputation as a babysitter and ultimately open her own dream day care business.
The game is pretty awesome. There are parents who are sarcastic, snappy and demanding, just like in real life. And the babies cry and let you know if you are keeping up with their needs like feeding, diaper-changing and playing with them. And let me tell you about the diaper-changing: you actually have to move your finger on the screen to pick up wipes and clean the baby's bottom. And if there's a red diaper rash on the bottom, you have to apply ointment to soothe the irritation. Babies have to be fed and bottles have to be held on the screen and positioned just right so the flow  milk comes out freely.
It's a job that not easy even virtually!
I love the game and the fact that at least the demands of babysitting and baby needs are registering with Kaitlin. Even my 8-year-old loves playing the game.
If you have a tween who's ready to test the waters and see what babysitting is all about, I highly recommend this game.
Purchase your copy of Imagine Babyz at TOYS R US
Key Features
Watch Your Babies Grow Up in 3D: Follow your realistic babies through different development stages, from 6 to 18 months. Watch your babies develop their own unique personality and abilities.
Show Off Your Babysitting Skills: Become the best babysitter and bond with babies like never before!
– Watch, hug & even talk to your baby via voice recognition
– Play peek-a-boo via facial recognition with the camera
– Take your baby to the park & watch him or her interact with other babies. You can even meet other babies and players via StreetPass
Travel to Different Countries to Babysit: Choose your destination city from San Francisco, Shanghai, Rome, Paris, Tokyo and more!
Customize Your Babies' Look: Manage your budget to buy baby clothes & accessories.
Open Your Own Day Care: Progress through the game and earn a great reputation as a popular babysitter, allowing you to ultimately open your own day care business!
Thank you to Ubisoft for sponsoring this post. Please click here to learn more about Ubisoft. I was selected for this opportunity as a member of Clever Girls Collective. #ImagineBabyz